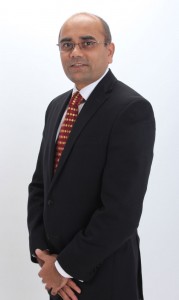 Prof Ajay L Mahajan MBBS, FRCSI, M Med Sc, MD, FRCS (Plast)
Professor Mahajan holds the Chair of Plastic Surgery at the University of Bradford and is a Consultant Plastic Surgeon at Bradford Teaching Hospitals.
He graduated from medical school (MB BS) in 1991. He then went on to do his surgical training in Ireland and attained his fellowship at the Royal College of Surgeons in Ireland (FRCSI) in 1999. Following this, he pursued his interest in Plastic Surgery and has been working in the speciality since then.
Being keen on establishing a scientific foundation to treating his patients and practicing evidence based medicine, he has actively participated in research, having done his Master of Medical Sciences in plastic surgery (MMedSc) at the National University of Ireland, Galway. Based on his accomplished academic career, Professor Mahajan was offered a Research fellowship at the University hospitals of Geneva, Switzerland, where he pursued his research interests, worked in a wide variety of clinical and lab based projects that culminated in his Doctorate of Medicine (MD) in plastic surgery. In 2009, he also passed his specialist exam in plastic surgery (FRCS Plast), following which he was awarded the Certificate of Completion of Training (CCT) and placed on the specialist register for practising plastic surgery by the General Medical Council (GMC) in the UK. He was appointed Consultant Plastic Surgeon at Bradford Teaching Hospitals NHS Foundation Trust and Calderdale and Huddersfield NHS Foundation Trust in 2011.
Professor Mahajan has trained in units recognised for training by the British Association of Plastic, Reconstructive and Aesthetic Surgeons and the Specialist Advisory Committee in Plastic Surgery within the UK. He has gathered considerable and varied experience in plastic surgery and cosmetic surgery by working in various units in Ireland, UK and Switzerland. He has furthered his plastic surgical experience by doing a prestigious fellowship in Breast Surgery at the Gent University Hospital, Belgium. Professor Mahajan has polished his cosmetic surgical skills by completing his Aesthetic surgery fellowship at Akademikliniken, in Stockholm, Sweden, which is Europe's largest private hospital for cosmetic surgery. Akademikliniken's ideology is to achieve 'Beauty Through Science' and it is one of the forerunners for Cosmetic surgery in the world.
Professor Mahajan is an active member of
British Association of Plastic, Reconstructive and Aesthetic Surgery (BAPRAS)
European Association of Plastic Surgeons (EURAPS)
British Association of Aesthetic Plastic Surgery (BAAPS)
UK Association of Aesthetic Plastic Surgeons (UKAAPS)
American Society of Plastic Surgeons (ASPS)
International Society of Aesthetic Plastic Surgery (ISAPS)
Association of Breast Surgery (ABS)
Royal College of Surgeons in Ireland (RCSI)
Nichola Robinson
Practice Manager
Nichola has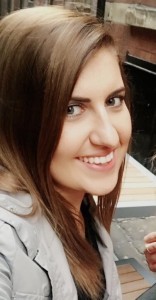 over 9 years experience in management of practice. Nichola loves her job and is very efficient in co-ordinating with patients. She is well versed with dealing with Cosmetic surgery patients and understands their needs. She is able to advise on potential available treatment options and arrange for appropriate consultation with Professor Mahajan.
Nichola overseas the patient journey right from the moment they make contact with us to the day they are discharged from our care. Once the patients have met Professor Mahajan, she follows the patients up to arrange for their surgery on dates that suit the patient and ensures that appropriate arrangements are made for their admission. Nichola is very empathetic to our patients who have had surgery and is always available to alleviate any concerns patients may have during their recovery. On the whole, she ensures that the patient experience is as smooth as it should be, all that our patients need to do is to mull over their options and confirm to go ahead and you are in good hands right from the word go!
Team Spire Elland Hospital, Elland, Halifax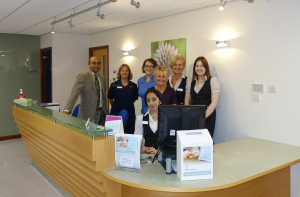 Anne Wray, Karen Hesselden, Heather Clayton, Laurie Churchill, Evie Parkinson,   Halima Riaz, Sharon Ashcroft
The Spire Elland hospital is located in a secluded location in Elland, near Halifax. The Springfield suite at the hospital offers a personal and discreet service to patients wishing to have aesthetic surgery. It has its own private entrance from the car park.
Sharon and Anne with their dedicated and highly trained team at the Spire Elland will make you feel very welcome and ensure that your journey as a patient wishing to have aesthetic surgery is an exciting experience! You will be explained every thing in detail and they will always be available for you to contact them with any queries you may have after your initial consultation. They will ensure that you have all the information you need to be able to make an informed choice about your procedure. Once you have decided to go ahead, they will ensure that all arrangements are in place for you to come in and have your procedure done in a relaxed atmosphere. After care will be tailor tacked to the procedure you have had done and we will always be just a phone call away, should you have any concerns.
Team Yorkshire Clinic, Bingley, Bradford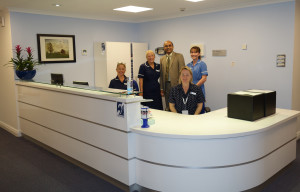 Jackie Seel, Sandra Horsfall, Lindsey Ferguson, Christine Thresher
The Yorkshire clinic is located away from the hustle and bustle of Bradford, on its outskirts in Bingley. It is the perfect location for getting away for your aesthetic surgical procedures.
Sandra and Jackie with their caring and efficient team will make you feel very welcome to our high class facilities at the Yorkshire clinic. Aesthetic surgery patients have their personal waiting room and will be ushered in to our purpose built plastic surgery clinic room for your appointment. They will ensure that your appointment goes smoothly and you take your first step in to the aesthetic surgical world in comfort. Nichola will follow up on the appointment and make the necessary arrangements for you. You will soon realise that you are in the best of hands at the Yorkshire clinic.
Team Evolve Medical, Leeds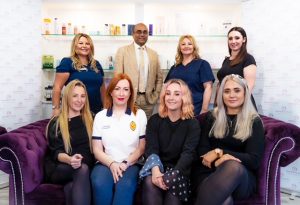 Rachel Green, Catherine Smith, Emma Bartlam, Sally Coope, Rebecca Gregson Twist, Lauren Holton, Zoe Colley, (missing Laura Teasdale!)
Evolve medical is a state of the art facility based in Leeds, West Yorkshire.
We pride ourselves on operating in a safe clean maintained environment, with our patients comfort always at the forefront of our minds. Our bespoke private treatment rooms have been specifically designed for each of our treatments as well as our laser suite that has been designed in accordance with safety guidance.
It's our mission at Evolve Medical  to help you find the 'Best Version of You'. We will ensure that you are cared for in a safe environment by our team of Health and Therapy Professionals. We will always treat you with the highest standard with dignity, respect, confidentiality and non- judgemental ways.
We will always endeavor that you leave our clinic satisfied with the care you have received as well as always educating our clients to the best of our ability.
Trent Cliffs Clinic, Scunthorpe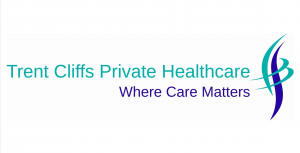 Our mission is to keep people healthy.
Working with our local and regional partners, Trent Cliffs Clinic, Scunthorpe aims to establish and develop a first-class patient-centred hospital that delivers world-class healthcare over a variety of specialties. 
Our Values
Trust – by supporting every member of staff we will gain the support of our population.
Integrity – honesty, ethicality, principles, accountability and service to our customers is essential to us
Excellence – we will deliver the best possible performance and we will always strive to improve in all areas of our operations
How can you know if your surgeon is a qualified Plastic Surgeon?
MB BS, MB BCh or MB ChB is the basic medical degree of any doctor. Your plastic 'surgeon' should at least be a 'surgeon'. Doctors who receive adequate 'basic' surgical training in the UK are awarded Fellowship (FRCSI, FRCS, FRCS Ed, FRCS Gl – in the older generation of surgeons) or Membership (MRCS – in the younger generation of surgeons) of the Royal Colleges in the UK. Doctors or Surgeons, who believe in having a scientific foundation to their practice, spend further years doing research in their fields and are awarded Research degrees such as MSc, MMedSc, MPhil, MD or PhD.  Surgeons who 'train specifically in the field of Plastic surgery' are awarded FRCS (Plast). These surgeons are then entitled to be on the "Specialist register for Plastic Surgery" with the General Medical Council (GMC).
How can you choose amongst qualified Plastic Surgeons?
'Safe' and 'beautiful' results are dependent on 'experience' and 'expertise' of your plastic surgeon. Professor Mahajan is a highly trained and experienced plastic surgeon who is a Consultant Plastic Surgeon at the Bradford Teaching Hospitals NHS Foundation Trust and is the Professor of Plastic Surgery and the Director of Research at the prestigious Plastic Surgery and Burns Research Unit (PSBRU) at the University of Bradford. He has a specialist interest in Breast surgery having worked in world-renowned centres for breast surgery in Belgium, Sweden and Switzerland in addition to his training in the UK. He is a full member of the British Association of Plastic Surgeons (BAPRAS), British Association of Aesthetic Plastic Surgeons (BAAPS), UK Association of Plastic Surgeons (UKAAPS), European Association of Plastic Surgeons (EURAPS), American Society of Plastic Surgeons (ASPS), Association of Breast Surgeons (ABS) and is on the Specialist register for plastic surgery with the General Medical Council (GMC). Surgeons are only awarded membership of these associations if they are adequately qualified and it is a reassurance for you that you are in safe hands. In addition to this, it obviously helps if your surgeon has travelled the world to enhance his training in premier institutes to learn from leading surgeons in their fields. It also helps if your surgeon believes in practicing "evidence based medicine" by engaging in research activities to help establish a scientific background to his / her clinical practice.